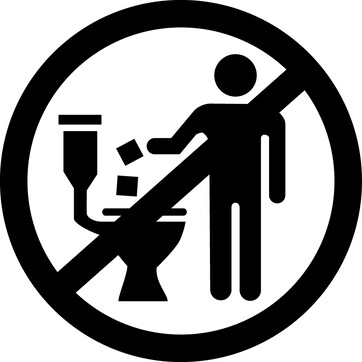 BLOCKAGE OF THE TOWN'S SEWER SYSTEM
The Town of Millet Public Works crews worked tirelessly throughout the weekend to unclog a blockage in the sewer system this weekend. After many hours of draining and scoping the pipes it was determined that an abundance of construction waste had been dumped into our sewer system.
Thankfully our staff and contractors were able to move quickly and drain the old and new sewer vaults to avoid any back ups in residents homes.
The Town wishes to remind residents to be diligent in what they are putting into the sewer systems. Many items we use on a daily basis cannot go down our toilets or drains. Several products, even those labelled "flushable" or "biodegradable" do not dissolve and putting them down the toilet or drain can cause:
Damage or blockages to your home plumbing, which could lead to basement flooding.
Damage to the Town's sewer pipes located under the streets, which could lead to basement flooding.
Damage to wastewater treatment plants.
Harm to the environment, local streams and rivers.
To help keep the entire sewage system working well and prevent sanitary sewer blockages and/or sewer service line blockages that can result in basement flooding, it's important not to flush or put the following products down drains:
Hygiene products (e.g. sanitary napkins/liners, tampons, condoms, wipes, cotton swabs, dental floss, diapers and rags).
Fats, oils and cooking grease.
Medication (e.g. pills or liquid).
Household hazardous waste (e.g. paints, pesticides, cleaning products).
Car and garage products (e.g. motor oil, antifreeze).
Any construction waste.
Any person in breach of any provisions of the Bylaw is guilty of an offence and is liable under summary conviction to a fine of not more than $10,000.00 exclusive of costs and, in default of payment of the fine, to a period of imprisonment for any period not exceeding six (6) months.
On behalf of the Town, we want to thank the Public Works department and all the contractors who worked throughout the weekend to save our system and our residents basements.